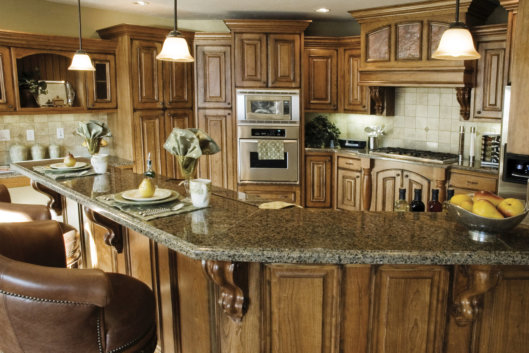 If you are finally planning an exciting project for kitchen remodeling in San Diego California, you may want to consider having a U-shaped kitchen because it can work in large spaces and is very practical. Since it can provide you with potential storage space, you can easily do away with clutter.
A U-shaped kitchen can accommodate modern design features and conventional units. If you have a small kitchen, we suggest that you choose dark-wood kitchen units and bare white walls to make it look spacious. Otherwise, feel free to experiment with dark colors.
You may integrate a dining table and chairs on the facing end of the U shape, depending on your space. If you can find this capacity, then that's better so you won't have to go back and forth from the kitchen to the dining room if you need to get more food or drinks.
If you can't incorporate a dining table and chairs on the opposite end of your U-shaped kitchen, then you can set a breakfast station or bar on the third side of the U shape like a peninsula. If your kitchen is your friends' favorite place, then at least they have a place where they can hang out.
In your U-shaped kitchen, it is essential that you have a full window to fill the space with light that can show off your units in their best standing, so make sure that you add more color and pattern to them. As per our kitchen & bathroom specialist in San Diego, California, kitchen linen and accessories typically do the trick.
Infinity Design & Build, Inc. has already helped many homeowners when it comes to remodeling their kitchen and bathrooms. We always see to it that each of our client's expectations is met with also the intention of exceeding them.
If you need our services for kitchen or bathroom design in California, you are welcome to contact us today!