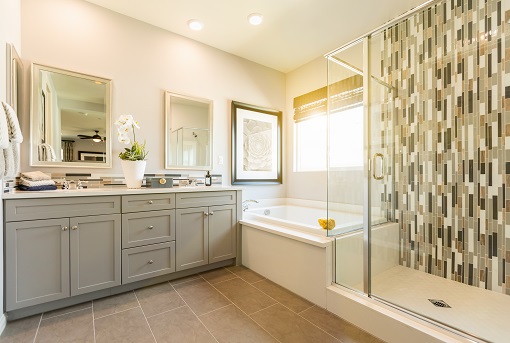 Bathrooms are one of the most essential spaces in a home. How you present and decorate your bathroom is essential as this can induce peace, privacy, and overall comfort as you use this amenity. A good-looking bathroom provides a great first impression for your guests!
So, if you are thinking that your current bathroom is too drab, dark, and outdated, then make sure to partner with Infinity Design & Build, Inc., the premier kitchen & bathroom specialist in San Diego, California.
Working with the right color scheme can make or break the overall vibe of your bathroom. So depending on what feelings and relaxation you want to invoke, make sure to think it through!
To make your bathroom look more spacious and pleasing to the eyes, our experts on bathroom design in California, suggest the following color schemes:
Go All White

White reflects more light than any other color, thus, providing the illusion of a bigger space.

Choose Neutrals

Light beiges, taupes, and grays create a calm and serene mood in any size bathroom.

Induce Relaxation with Blues and Greens

Associated with the color of nature, lighter varieties of blue and green can create a spa-like experience at home.

The Right Paint Finish

A satin or semi-gloss finish is easier to clean than a matte or eggshell finish. Satin is more durable and glossier than eggshells without being too shiny.
If you feel that your bathroom requires a total makeover, then let our team of bathroom specialists design and remodel it to fit your tastes. Call us today so that we can brainstorm on how to remodel your bathroom. Should you want it, we also offer kitchen remodeling in San Diego, California.