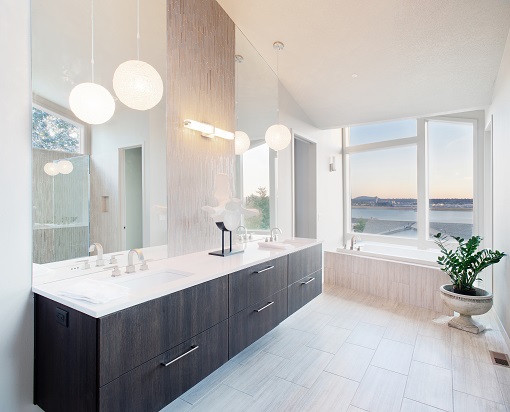 The bathroom is one of the most popular rooms to remodel in the home. However, it can also be one of the most expensive and difficult areas to remodel. While most people should leave tiling and plumbing to the kitchen & bathroom specialist in San Diego, California, there are some things you can do to save money on a bathroom renovation.
Replace, not renovate
Are you working with mustard-yellow tiles? Don't bother calling the demo crew just yet. Consider reglazing your tiles instead of replacing them if they are in good condition but just in a dated color. Reglazing can save you thousands of dollars and can last for a very long time.
Don't make rash purchases
Our experts on bathroom design in California advise visiting Habitat for Humanity Restore regularly, as it sells donated or excess materials from construction sites for up to half the original price. Plus, all proceeds are donated to charity.
If you don't have to, don't move the pipes
Moving plumbing supply and waste lines can be costly. If the layout works but the bathroom only requires an aesthetic upgrade, leave the plumbing alone.
Make or find your own custom mirror
If you have a plain mirror, buy some elegant wood casing and paint it to make your own frame. A standout focal point will elevate the space, and this can be a fun weekend project. You can also go to thrift stores and garage sales to find old or used mirrors to refurbish.
Infinity Design & Build, Inc. offers infinite choices and options to help you achieve your remodeling goals. Our team aims toward helping you make your home simply you.
We also offer kitchen remodeling in San Diego, California.