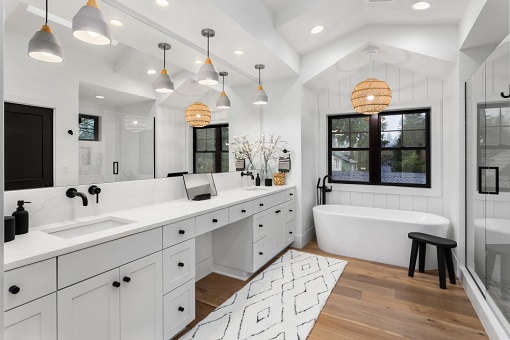 It is important how to maximize a small space, especially your bathroom. You don't want to feel uncomfortable and cramped while doing your business. So, here are some of the best tips to maximize your small bathroom space:
Get rid of anything that pokes out into your floor. Make use of the wall to hang or create storage and display spaces for your essentials. Also, mirrors are always your best friend when it comes to small spaces. It is one of the easiest tricks in the book and is one of the most impactful.
Consider the wall and floor tiles. Larger tiles with smaller grout lines and tiles placed diagonally can make the bathroom appear larger than it actually is. Great lighting is also key to making the room visually larger. Do not use suspended lights because they tend to make the ceiling feel lower.
Consider using sliding doors, pocket doors, or other doors that use a rail instead of a hinge. If it's not possible, ensure that your door swings outwards. Try to use a clear glass enclosure, too, to open up the room. If it's not possible, use clear shower curtains instead so that light can still enter.
If you are in need of a kitchen & bathroom specialist in San Diego, California, you don't have to look far. Look for no other than Infinity Design & Build, Inc.
Let us help you create the best bathroom design in California for your home. We always aim to bring our clients the satisfaction they deserve.
For renovation services such as bathroom and kitchen remodeling in San Diego, California, feel free to reach out to us.