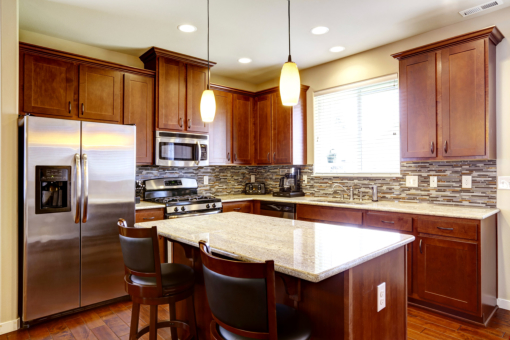 As you know, you use your kitchen a lot. It's where you prepare you and your household member's meals daily. Of course, you will want to cast as much of proper lighting in the room as possible. That way, you can conveniently see everything.
Just like any other room that you go to, there must also be a proper balance of lighting in your kitchen. Otherwise, you will have a hard time accomplishing your kitchen tasks efficiently.
Our kitchen & bathroom specialist in San Diego, California recommends that you have ambient lighting installed as evenly as possible on your ceiling. They can be in recessed lighting or chandeliers. They must be placed above the kitchen counter where you cook and prepare the food.
If you have large windows, pull up the curtains or blinds to let the sunlight add to the environment's illumination. The more light you have, the better you can work in your kitchen with ease.
Did you know that you can add accents to your kitchen? If you want something to accentuate your favorite kitchen elements, you can have wall sconces installed as well. These can add visual interest in the room.
If you want to have a kitchen remodeling in San Diego, California, you must consider the places where you can install great lighting for your kitchen.
Infinity Design & Build, Inc. offers services for kitchen and bathroom design in California. Contact us today and let us turn your house into your dream home!