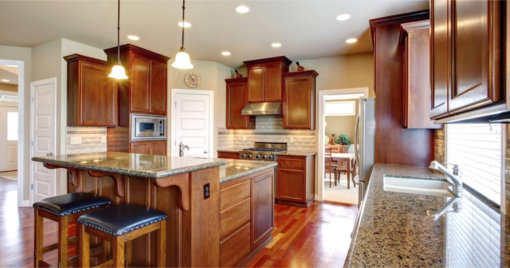 Eager to do some kitchen remodeling in San Diego, California? Start by deciding on your preferred kitchen layout. Depending on your size and space constraints, here are some popular layouts to choose from:
Galley. Also known as a walk-through kitchen, this is a one-wall kitchen layout that is perfect for small spaces. It comprises a pair of countertops or walls with a straight walkway in between. With this layout, you are essentially converting a wide hallway into a kitchen.
L-Shaped. This layout is perfect for maximizing corner spaces in small or medium sized kitchens. It also provides your kitchen a dedicated space separated from the rest of the house. Thus, eliminating unwanted traffic from the space.
Island. If you have the extra space, you can place an island counter in the middle of your Galley or L-Shaped kitchen. Island counters are extremely versatile. They can serve as added cooking, baking, and storage space—or as a bar counter or dining area.
Peninsula. This layout is for those who want an island counter but lack the space. It involves attaching an additional countertop to the existing one in your kitchen (instead of having a separate island of its own). Thus, you get the best of both worlds while maximizing your space.
Kitchen and bathroom design in California need not be complicated and overwhelming. Working with the right design firm can make the whole process simple and hassle-free. Share with them some design pegs of your preferred kitchen layout to jumpstart the design process.
Infinity Design & Build, Inc. is a kitchen & bathroom specialist in San Diego, California with a proven track record for designing and implementing home improvement works. They specialize in bathroom, kitchen, and room addition projects. Call them today at 619-577-0939.